St. Ann's Anglican Church, Adelaide Village, Ontario is located on old Highway 22 just west of Highway 81, approximately midway between London and Sarnia.
In the 1830's settlers arrived in Canada from England, Ireland and Scotland. At this time in history, Europe was leaving the Napoleonic era and in England many of the army were disbanded. Officers could convert their pensions into cash and depending on rank and length of service, they could buy land at a discount. The Scots emigrated to the New World when many old estates were turned into sheep ranches and the crofters (tenants of small parcels of farmland) ordered out. Hence the first settlers in Adelaide Village were predominantly aristocratic army personnel from England and Ireland and gentlemen farmers from Scotland.
St. Ann's Church built in 1833 was a frame building measuring 30 x 28 x 16 feet high, which was destroyed in 1868 during a 'wind storm'. The current brick church was built in 1868 and the contract for the stone and brickwork cost one hundred dollars!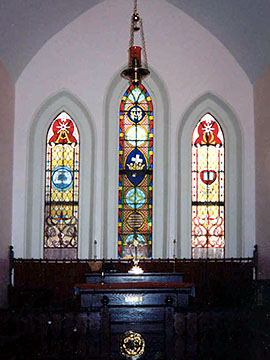 The church and its accoutrements attest to a long history of Anglican faith. The Bible used until recently was given by the Society for Promoting Christian Knowledge in 1841. Early communion vessels are displayed in the Church and are thought to be the set carried to the new world by the Rev. Dominick Edward Blake of Ireland, the first rector. The heritage of military personnel is captured in the stain glass windows of the sanctuary given in memory of Major Radcliff and his family 1879. Not to be forgotten, is the history recorded in our cemetery. The oldest burial was November 28, 1833. In 1938 an oak tree, brought from Windsor Castle to commemorate the Coronation of King George VI and Queen Elizabeth was planted between the cemetery and the church. The tree dominated the yard until it was removed for safety concerns a few years ago. Parishioners have saved and replanted saplings from the original tree in the same location so it lives on.
The Church has a small number of parishioners but that was not always the case. There have been great parties and celebrations in the history of the church. At the Hundredth Anniversary in 1933 and the Diocesan Centennial in 1957, reports boasted attendance for services of 250 and 400 parishioners and guests.
The current parishioners have been good stewards of the physical property. For the 150th Anniversary they built a Parish Hall and until recently held Sunday School classes for the youth. The hall was re-sided in 2001 and the front entrance was enhanced to accommodate wheelchairs. The Anglican Church Women is still an active group and they are responsible for the weekly services as well as special services held in the church. All parishioners are invited to participate in the services as readers. Most families have at least one reader.